Product Summary
The CD4017BE is a CMOS counter/divider. It is 5-stage and 4-stage Johnson counter having 10 and 8 decoded outputs, respectively. Inputs include a CLOCK, a RESET and a CLOCK INHIBIT signal. The applications of the CD4017BE include: (1)Decade counter/decimal decode display; (2)Binary counter/decoder; (3)Frequency division; (4)Counter control/timers; (5)Divide-by-N counting.
Parametrics
CD4017BE absolute maximum ratings: (1)DC supply-voltage range(VDD)voltage referenced to VSS terminal: -0.5V to +20V; (2)Input voltage range, all inputs: -0.5V to VDD +0.5V; (3)DC input current, any one input: ±10mA; (4)Power dissipation per package(PO): for TA=-55℃ to 100℃: 500mW; for TA=+100℃ to +125℃: derate linearity at 12mW/℃ to 200mW; (5)Operating-temperature range(TA): -55℃ to +125℃; (6)Storage temperature range(Tstg): -85℃ to +150℃.
Features
CD4017BE features: (1)Fully static operation; (2)Medium-speed operation: 10MHz(typ)at VDD=10V; (3)Standardized, symmetrical output characteristics; (4)100% tested for quiescent current at 20V; (5)5V, 10V and 15V parametric rantings; (6)Meets all requirements of JEDECT tentative standard No. 13A, Standard specifications for description of B series CMOS devices.
Diagrams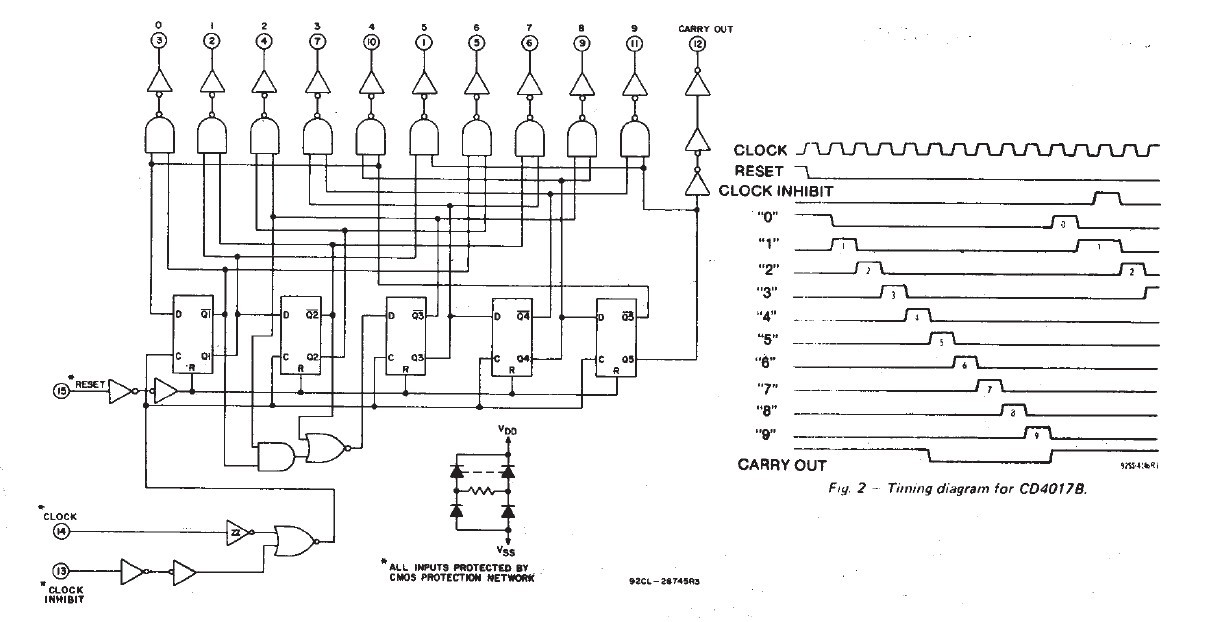 Image
Part No
Mfg
Description
Pricing
(USD)
Quantity

CD4017BE

Texas Instruments

Counter ICs 10 Decade/Divider

Data Sheet



| | |
| --- | --- |
| 0-1: | $0.27 |
| 1-25: | $0.23 |
| 25-100: | $0.17 |
| 100-250: | $0.17 |


CD4017BEE4

Texas Instruments

Counter ICs 10 Decade/Divider

Data Sheet



| | |
| --- | --- |
| 0-1: | $0.32 |
| 1-25: | $0.23 |
| 25-100: | $0.20 |
| 100-250: | $0.18 |